Deerland is a unique and interesting tourist destination. It is a perfect choice for nature lovers. Numerous types of flora and fauna can be found here.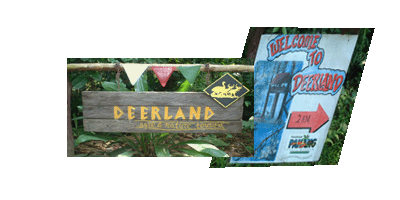 LOCATION: LANCANG
FROM TEMERLOH: 50.5 KM
SIZE: 10 acres
 Operation Hours: 11.00 am - 6.00 pm (Everyday except Friday)
Deerland was built by its creative owner, En Abdullah Ahmad B. Mahmud. He used private funds to build and operate Deerland. It was completed in March 1996. It is one of the major contributions to the Pahang government in improving the tourism industry in the state. The objective of Deerland is to support the government in sustaining dwindling wildlife. This will allow the public to enjoy nature and to understand the habitat. The concept that Deerland is inculcating allows people to appreciate nature, both its flora and fauna. 'NATURE BACK TO THE NATURE'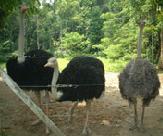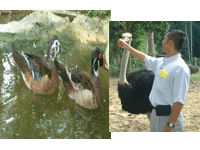 Among the animals in Deerland's Animal World are Ostriches, Eastern Deer, Indian Nilga Deer and Canadian Wood Ducks and many more.
Visitors are also able to see wild birds of various species which are always present in the area making Deerland a perfect destination for bird-lovers.