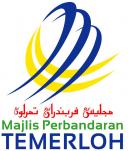 In connection with a new standard of Council, logo Council had been alter to new logo based upon following concept :
Five abstract line blades form "T" means TEMERLOH.
Five abstract line blades carry the meaning of Temerloh Municipal Council functioning based on Five National Principles.
Three abstract line blades in blue means Municipal Development implemented on principle of Efficiency, Effectiveness and Integrity.
Two abstract line blades in yellow means Temerloh as district in Pahang State where its citizens carry fully loyalty and obedience principles to King.
Jawi writing in red coloured represents Will, Effort and Sacrifice.
Majlis Perbandaran in green carries the meaning of municipalities that its environmental is protected and sustainable development.
"TEMERLOH" in blue represents municipal citizens' unity, live in peace, peaceful and prosperous.
The whole logo that carries corporate image represents Temerloh Municipal Council as always dynamic, progressive and always ready to bring reformation, development and success at every time.